India's clampdown on cash lost the economy a few billionaires last year though the richest hardly saw their fortunes hit.
India dropped one spot to No. 4 on the Hurun Global Rich List as the nation lost 11 billionaires in 2016 while the world added 69. However, the 18 Indians among the top 500 billionaires saw their wealth drop just 1.5 percent, according to the Bloomberg Billionaires Index.
"The world today has 5,000 dollar billionaires, assuming that for every one we have found we have missed at least one," Rupert Hoogewerf, chairman and chief researcher at Shanghai-based Hurun Report Inc. said in a statement. Changes in the list were triggered by a strong U.S. dollar together with gains in major stock markets, Brexit, Donald Trump's election as U.S. president, a surge in property values in China and demonetization in India, he said.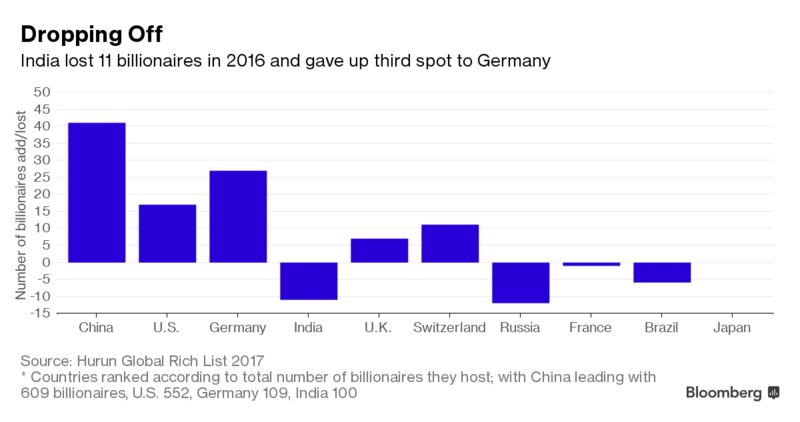 Demonetization refers to Prime Minister Narendra Modi's shock decision Nov. 8 to cancel 86 percent of Indian currency in circulation to fight graft. The move dented demand in the world's fastest-growing big economy.
However, the Bloomberg Billionaires Index shows that the 18 Indians among the world's 500 richest billionaires had a combined fortune of about $149 billion at the end of 2016, down only slightly from $151 billion in 2015. The pack is led by Mukesh Ambani, whose net worth has risen by $4.5 billion in 2017 after a $1.1 billion increase last year.
India's benchmark equity index has risen about 9 percent in 2017, extending last year's 2 percent gain while the currency has pared 2016's 2.6 percent drop.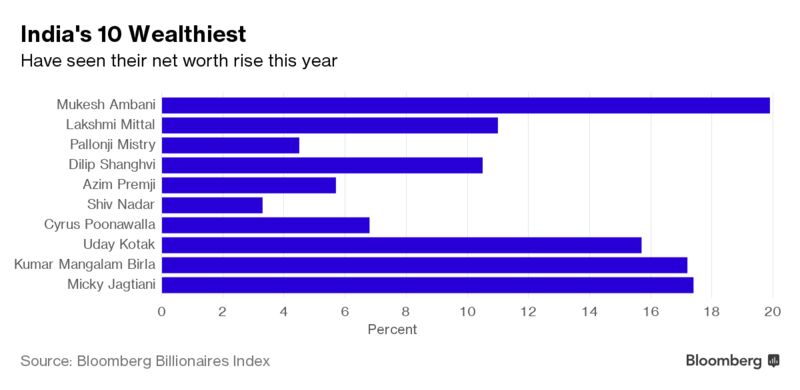 Source: Bloomberg