The South Korean won, Asia's best performing currency this year, is shrugging off a buildup in tension on the peninsula. The calm may not last.
Heightened geopolitical risk, domestic political strains and punitive action by China could turn investors against the won, according to Goldman Sachs Group Inc., following a run that has seen the currency gain 5.6 percent this year.
Most Korean assets are coping with the pessimism. After all, political turmoil is a fairly regular feature on the Korean peninsula. What's different this time is Monday's missile launches by Kim Jong Un's regime in the north coinciding with China banning travel agents from selling tour packages to South Korea, putting a large dent in the country's tourism industry.
"Political and geopolitical risks are high and will continue to be high," said Philadelphia-based Jack McIntyre, who helps manage $70 billion at Brandywine Global Investment Management LLC. "China tourism is a big influence on economies — it moves the needle on growth. So if they are pulling back tourism to Korea that just adds a level of risk to Korean assets including the currency," said McIntyre, who has built up a short position in the won.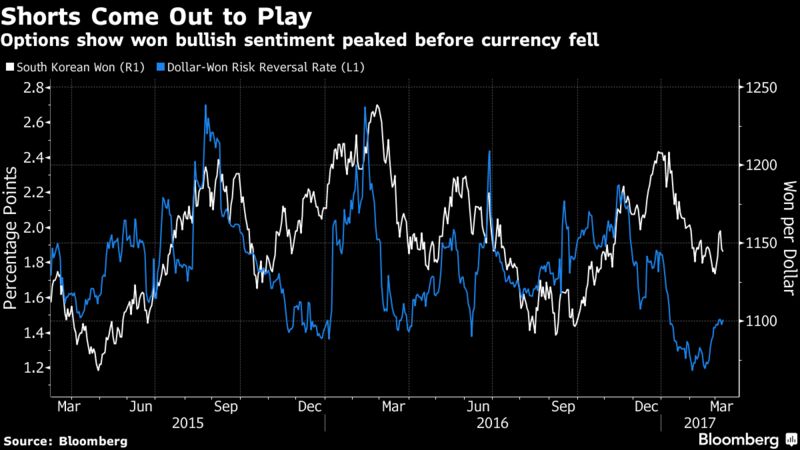 South Korean companies are beginning to feel the fallout of the government's decision to allow the U.S. to deploy its Thaad missile defense system in the country, a move that China regards as a threat to the region's "strategic equilibrium." In addition to restricting tourism, China has suspended operations at around 40 Lotte Mart stores. Shares in Lotte Shopping Co. Ltd. have fallen 12 percent in the past seven trading days.
Goldman Sachs estimates that the travel curbs could cut South Korea's tourism revenue by about $5 billion. Around 111,000 visitors have canceled trips to the holiday hotspot Jeju, according to the local government, and Chinese carmakers are withdrawing from a trade show on the island scheduled for this month.
The Korean Trade Ministry met with associations from 13 industries on Tuesday as it seeks to minimize damage, and the UN Security Council meets Wednesday in New York to discuss North Korea's missile launches.
The situation is on the radar screens of global strategists. Bilal Hafeez, head of G-10 currency strategy at Nomura Holdings Inc. in London, said the subject was on the minds of investors on a recent trip to the Middle East. "Many felt having some kind of hedge for a negative event was prudent," he wrote in a March 7 note.
As the bears gather, it's getting more expensive to bet on the won dropping. The cost to protect against declines in the currency rose last week to the highest since early January, based on pricing for three-month currency options. A month ago the cost touched the lowest since 2014, signaling a surge in bullish sentiment on the Korean currency.
"While North Korea's missile tests are expected to have limited market impact, as in the past, China's unofficial ban on group travels to South Korea and escalating protests against Lotte's land swap for Thaad deployment are clearly detrimental to both the economy and the won," said Andy Ji, Singapore-based currency strategist at Commonwealth Bank of Australia.
Source: Bloomberg View
Original article: https://www.bloomberg.com/news/articles/2017-03-08/bears-bet-geopolitics-will-torpedo-top-performing-asian-currency